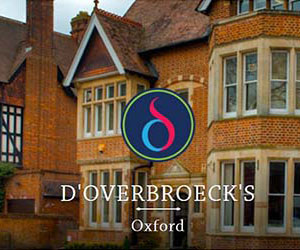 Live and study in a top UK independent school. Experience life as a d'Overbroeck's student and learn from materials adapted from the British teaching curriculum by the d'Overbroeck's teaching staff.
This school is a forward-thinking and highly-successful boarding school with a reputation for highly…[
More info
]
Age : 13 - 18
Environment : Town Center
Services : internet access,wifi
Our advice
5
/
5
D'Overbroeck's is a college with a remarkable knowledge of the education thanks to their teachers and their fantastic experience which allows students to develop fully their linguistics capacities. This linguistic program is specially adapted for international students with an intermediate or advanced
English
level. The lessons are built around a theme (science, communication,
business
,
sport
…) and allow to the beneficiaries of the linguistic program to benefit important knowledge on different domain. The
excursions
or over activities are related to the theme of the week, and all the programs are regularly updated to be in relation with the events of the country and the wider world.