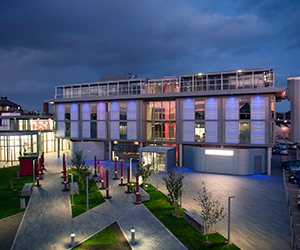 We are the leading arts university for the creative industries. We relentlessly innovate, collaborate and connect in ways that turn creative talent into careers. Here's what we believe helps our graduates achieve their ambitions:
Do more than Study: make. Do more than attend: live. Do more than work:…[
More info
]
Minimum age : 16 and 14 for certain programs
Environment : Seaside
Services : beverage vending machines,cafeteria,internet access,library,multi-media center,student lounge,Video library
Our advice
5
/
5
Explore your creativity at the UK's n° 1 University for the arts. On our specialist campus you'll learn from experts and collaborate with a diverse mixture of students who share your passion for creativity.
These courses provide a wonderful study opportunity; giving individuals (minimum 16 years of age) the experience of studying in a University environment with access to our world-class facilities, highly acclaimed teaching staff, visiting lecturers and specialist learning resources.
Through our summer courses, you'll have the opportunity to develop new skills and techniques, boost your career prospects and learn from some true creative experts. At the end of it all, you'll come away with a certificate from the UK's No. 1 arts university, a network of new friends and expert tutors and a summer to remember.