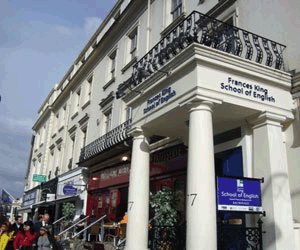 Frances King school is one of
London
's most popular and well-known
language schools
.
The goal of Frances King is to provide
English
as a foreign language training that is effective, enjoyable and of lasting personal value.
When you book a course, you will become a member of FK Online, which includes a…[
More info
]
Minimum age : 16 and 6 for certain programs
Environment : Town Center
Services : internet access,library,multi-media center,student lounge,Video library,wifi
Our advice
4.5
/
5
Frances King is a school on the cutting edge of new technology for teaching
English
as well as offering quality courses. It puts personal tools at the disposal of its students, which few other schools offer. Frances King is a very good school that is well located and will make you appreciate life in
London
.