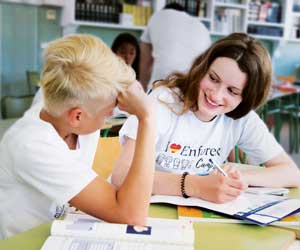 Have an unforgettable summer living 24 hours a day with
Spanish
children and teenagers from around the world.
Valencia
is
Spain
's third largest city and has experienced a cultural renaissance in recent years. Located on the Mediterranean coast, it is a medium-sized city of about 800.000 residents…[
More info
]
Age : 12 - 17
Environment : City
Services : cafeteria,internet access,student lounge
Our advice
4.5
/
5
This program is typically 40% young non-native speakers, and 60% young
Spanish
people. This program in
Valencia
gives teenagers the opportunity to live a unique, educational experience with the goal of perfecting their
Spanish
and participating in activities. It is a very popular study abroad choice during the summer.
For students who want to learn and practice various
sailing
,this programme offers an option in which students can take part at an additional cost.